Zhuoxin Ranked in The Legal 500 Asia Pacific 2020 Edition
The Legal 500 Asia Pacific Rankings 2020 has been announced on 16 January, 2020. As a famous legal rating agency from UK, the Legal 500 has launched a new ranking of leading PRC law firms in selected cities such as Nanjing, Hangzhou, Chengdu and Guangzhou. And for the first time, we are so honoured to be recognized as a Tier 2 firm in Guangzhou.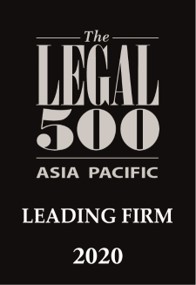 As is described on the official website of the Legal 500, "Guangzhou is the capital and most populous city of the province of Guangdong in southern China. Guangzhou was a major terminus of the maritime Silk Road, and continues to serve as a major port and transportation hub, linking mainland China with Hong Kong and Macau. The Greater Bay plan aim to link Hong Kong, Macau and nine cities in Guangdong province into a giant science and IT hub comparable to the combined size of San Francisco and Tokyo's bay areas by 2035…Guangzhou has a large number of local SOEs and private companies, and there are also a large number of long established local firms in the market."
Legal 500's Comment about us: Zhuoxin Law Firm handles a steady flow of FDI and overseas investments. The 'pragmatic and efficient' managing partner James Chen handles corporate and commercial matters for a mix of multinational and domestic companies, and recently advised on cross-border liquidation and restructuring matters. Kenda Peng and Yi Zhang are recommended for employment and tax matters respectively.
We sincerely express our highest gratitude to our clients for their trust and continuous support.