Zhuoxin Honorably Awarded as the "National Leading Law Firm" by the Ministry of Justice of the PRC
  In order to encourage law firms and lawyers across the country to strive for the better service and make contributions to the whole country, the Ministry of Justice of the People's Republic of China ("the PRC") has launched the first selection activity of the "National Leading Law Firms and National Leading Lawyers" in 2020. On October 13, 2021, the National Lawyers Congress was held in Beijing. At the meeting, the Ministry of Justice of the PRC officially awarded 130 law firms across the country, including Zhuoxin, with the title of "National Leading Law Firm".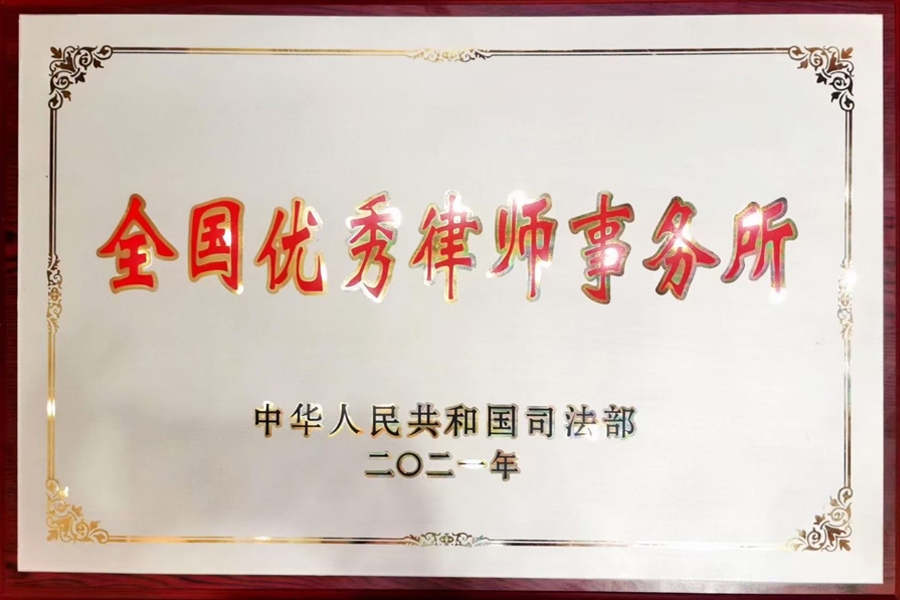 The honour of "National Leading Law Firm" is another great success of Zhuoxin, after we were awarded as the "Top 10 Law Firm" by the Justice Bureau of Guangzhou in 2007 and as the "2012-2016 Elite Law Firm" by Guangdong Lawyers Association in 2017. It demonstrates Zhuoxin's outstanding characteristics of political firmness, outstanding work and management standards, and fully reflects the high recognition and praise for Zhuoxin's work by the Ministry of Justice.

  The honour is for our past efforts, while we still need to move forward in the future. Zhuoxin is grateful for the trust and support of all the clients as always, for the perseverance, hard work and dedication of all Zhuoxin lawyers, and also for the strong support, supervision and management of the local authority and superior officials. We will be more responsible and motivated, continue to adhere to the idea of "in pursuit of excellence, trust and integrity oriented", enhance our professional sense of honor and mission, improve the level of legal services, and fight for the greater future of China.
--- End --